How to easily start mining crypto currencies with no expertise!
So What Exactly Is COMPUTTA?
Computta is a first of a kind service and application created by cryptocurrency professionals to enable anyone and everyone's computer to make digital money for their owners on autopilot.
This means that ANYONE with a computer can register, download our super-simple smart mining utility and start generating cryptocurrency on their computers – all within 3 minutes flat.
Click
"Sign Up"
and enter your email and a password to get started.
Full disclosure, that is an affiliate link and I will earn a small cut for you signing up and mining, but that's a big part of their marketing around their mining software as you'll learn more about below.
Once you've created an account you'll be presented with your account homepage: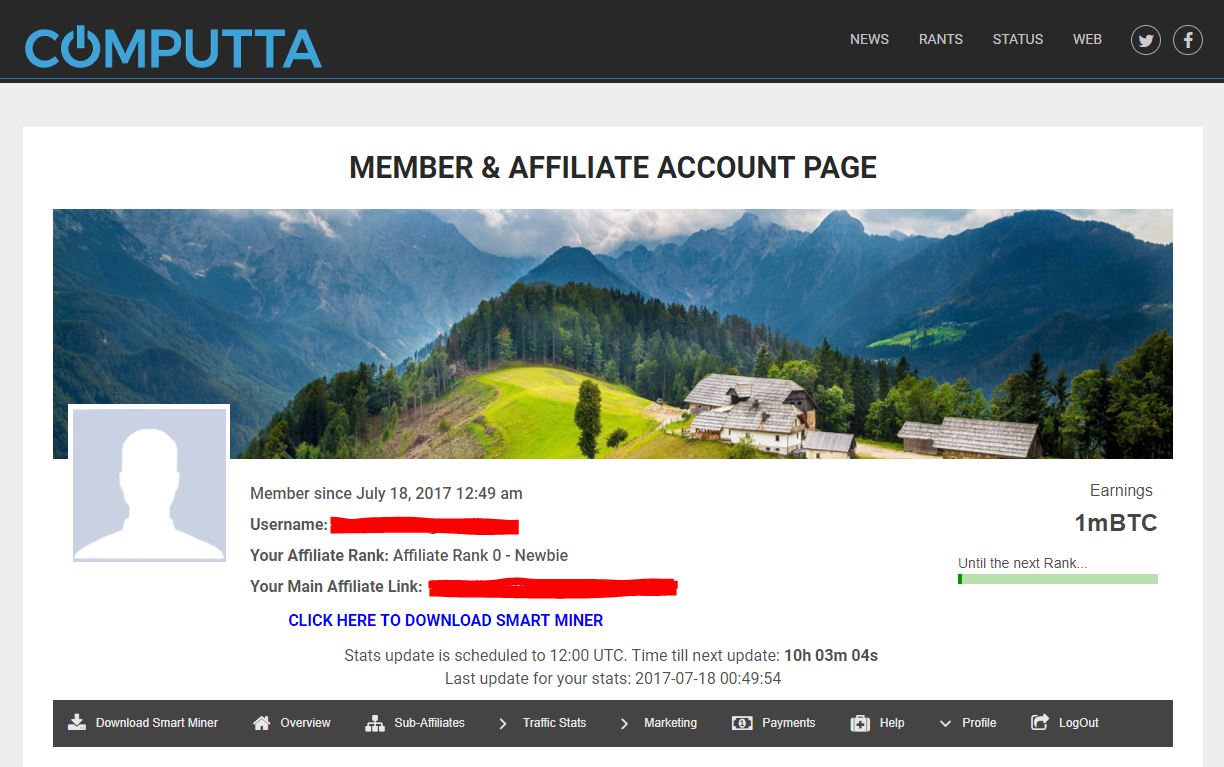 As a part of signing up, you'll be asked to provide a Bitcoin (BTC) wallet address.
Don't panic!
This is very easy to obtain. A good place to open a BTC wallet account is Coinbase. you'll be able to generate a BTC wallet address within minutes. Here's what one of my BTC wallet addresses looks like:
18ZN99EW4gJxixoxTnu8Vyk2GYvZjqMAMk
. From your wallet account you could send money directly by just adding address into the 'recipient' section. SO think of it just like an account number, but your account can generate many of them, even one per transaction. So when you're ready, enter
YOUR
wallet address into your Computta account to setup your payment method. Easy!
Installing
Click the

"DOWNLOAD SMART MINER"

link.

You'll be downloading

"Computta_windows-x64.exe"

at a reasonable 65.6MB.

I had to install to the default directory as clicking

"Browse"

made the installer crash.

Keep clicking

"Next"

and wait for it to finish installing. Once it has finished, ensure you select:

"[x] Run Computta"

and click

"Finish"

Now here's the benchmark section. Before clicking

"Start Benchmark"

ensure that your PC isn't running programs or games in the background. Your PC may become very slow during the benchmark as it stresses your system to 100% to see what its capabilities are.

Once finished you'll then have to enter your account details that you used to make your account earlier.

… AND THAT'S IT, you're ready to start mining. Click

"Start earning > >"

to begin. Also, remember that the following benchmark is calculated in USD.
Miner Settings
When you've installed and set up Computta, you'll see the following mining screen: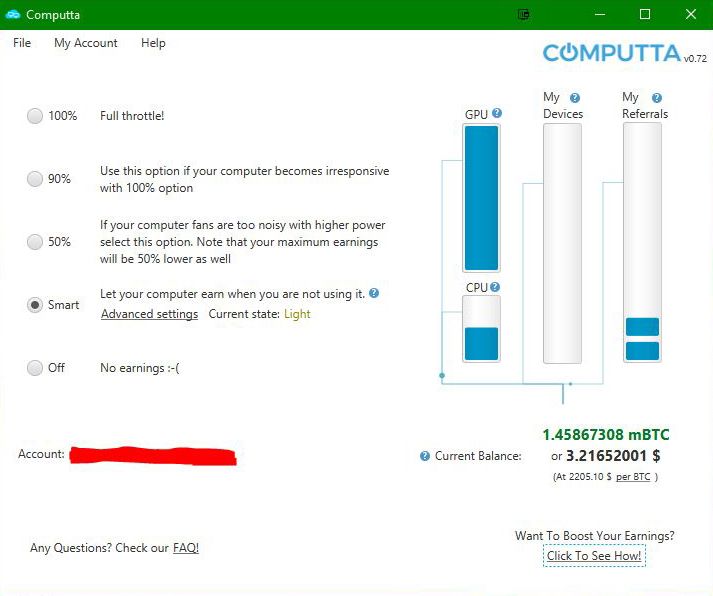 The settings are fairly straight forward, but my recommendation is to select
"Smart"
and then go into
"Advanced settings"
. Here you'll see how you can edit when your PC will start mining and how intensely it will run.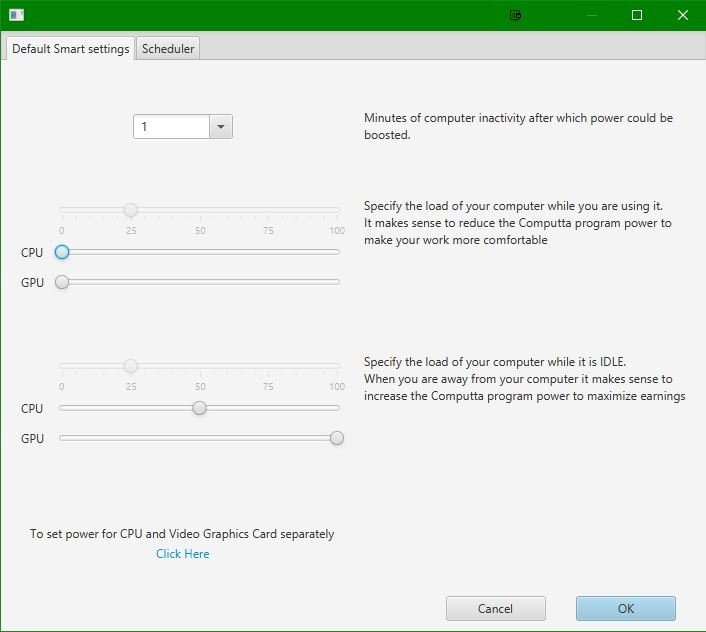 Set your away time in minutes first. 1 min of no use will maximise your earnings while ensuring your PC runs smoothly when you're using it.
The next two sliders represent how you will mine when you're using your computer. The last two sliders determine how intensely the PC runs when left alone.
If running this on a family members PC, I definitely recommend:
5 minutes away time
0% CPU and GPU usage on the first two sliders.

50% CPU and 100% GPU in the second sliders.

This way you won't get angry text from them asking why their PC doesn't run well anymore.
My Settings:
1 minute away time
0% CPU and 100% GPU on the first sliders.
50% CPU and 100% GPU on the second sliders.
Thank you for taking the time to read through my guide.